Know why i switched to Bluehost hosting and why it is the best – Bluehost Review.
Finally i have been getting some things done on my blog that was overdue. Now that i am stationary for a while living and working in India. One of those things was changing my hosting provider for better service and moving my blog to new host.
In this post i am going to tell you why i switched to bluehost from siteground and why bluehost is the best of all other hosting providers. And also i am going to tell, how this switch helped us in many ways.
This post will be very usefull and i request you to read till the end.
Now my traffic went 40% up and my blog load speed is become faster. And above all of this bluehost is cheaper than the other huge hosting providers.
Why i switched to bluehost – Bluehost review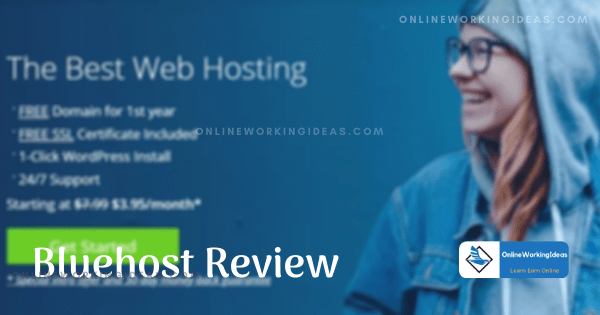 What is Host
First let us be clear what is hosting mean. Our readers are well beginners to know about what is hosting mean?
Hosting company is a huge company with more numbers of servers to present your blog all over the world. Each and every blog has a hosting provider with the domain name.
Your website can be viewed all over the world. All website owners will pay some charge for their hosting to the hosting provider.
My small piece of advice is, if you don't have a blog or website yet, start it with bluehost hosting provider now to earn money online.
Siteground Experience
I was using Hostgator when i first started out. Then i realised that host gator was not the best in the world. i found that, I had a lot of down time and the website was loading slow.
Then, i switched to siteground and it was fine during the startup. But still i found that i had a lot of downtime and also questions the quality of the blog.
It was exactly a year before i was really frustrated with the siteground hosting. I am not telling that siteground is a bad host.
They have massive amount of customers where they cant able to stick to serve the high quality to their customers.
The two main reasons why i switched to bluehost is my siteground site is loading very slow and i was spending nearly $200/month, which is not considerable for their quality i got.
During the mid of 2018, my site was going down a lot. This affects my workflow and also i missed lot of visitors to my blog which is not good.
For example, while i was working on onlineworkingideas.com it was down 4 to 5 times which is unacceptable.
So, i contacted the customer care of siteground to know what is happening in my blog.
The siteground customer care told that too many bots are crawling my site and overloading the site. This is the issue.
So, they recommended me to upgrade the hosting plan. Then i upgraded the plan, because i was very clear on anything should not affect my blog.
After upgrading also i found the same problem repeating on my blog. Again i contacted the customer care where i got the same answer again.
Finally they told me to upgrade to the auto scaling plan. Auto scaling plan is nothing but, my account will automatically upgrade and they will charge me accordingly. (Below i explained why i recommend bluehost)
Since i was in auto scaling plan every month my bill was changing. It was averagely around $200 per month. And but still i was facing the problems on my site.
I made a final call to the siteground customer care complaining about the problem i was facing on my site. They told that they have to add some code to my site to fix the problem.
Even that also not helped and my site was going down many times.
The site was running in the autoscaling mode and after a month i realized that my traffic also was down 60% when i compare to my site's normal traffic.
I realised that the reason for that is the code they have put on my blog, which is causing the drop on my blog traffic.
I tried everything to boost up the traffic of onlineworkingideas.com and but the solution was not found.
Finally i had to hire a developer on fiverr.com to fix the issue. He immediately noticed that the code in .htaccess file is blocking all the traffic to my site. That is google is not sending traffic to my blog.
He removed the code and finally it took another four weeks to regain the traffic again and put my site to the normal. This little coding problem had made me loss of 10000 visitors which costs around who knows.
After this, i stopped recommending siteground to my friends and clients, and started recommending bluehost. After that was fixed shortly i started a new blog on bluehost.
Bluehost Experience
Really i have to say that the change have been much more effective that i have ever thought it would have been.
I moved from auto scaling mode plan at siteground to premium dedicated server plan in the Bluehost.
Increase in speed
As i switched from shared hosting plan to dedicated hosting plan there is no doubt there will be increase in traffic.
There is lot more power in the bluehost server and its working overtime to serve the onlineworkingideas.com to bring in the traffic.
If your site takes too time to load, the visitor will simply click away to the another site. And also, google penalises the site, which takes more than 2 seconds to load on.
My blog traffic has gone up 20 % since moving to bluehost and still its climbing, of course a ton of factors contribute to the boost in traffic but, its happy to see it.
The loading speed of our site also performs better comparing to the loading speed while i was with siteground.
Lower Price
The price factor when compared to sharing hosting on siteground is cheaper in bluehost as a dedicated server hosting.
With siteground the cost was around $200/month on auto scaling while in bluehost it is around $119/month.
Of course a new blogger never have to spend that much, discount is available for the plans.
The cheapest hosting plan on siteground is around $4.95 per month and in bluehost it is $3.95 per month.
Whether you are a new blogger or a professional experienced blogger, bluehost provides best service for the best price.
Customer Service
I have been working with the bluehost customer service for my other sites and their support is the best.
I was fed up with the siteground customer service, they reply fast with the solution for the issues but mostly they was unable to help us with the site.
They make mistakes on the solutions for the issues, that causes problem to our business and blog.
Overall, i am happy with the bluehost customer service.
Bluehost also had customer support issues in the past, but they grew so quickly that they really could not keep up with the customer in demand.
Bluehost customer service answers any issues in under a minute and they have well trained and experienced technical team for the customer service.
Increase in speed is the main reason i switched to bluehost hosting plan.
I looked at some other different hosting providers plans, but that was cost about $250/month. So i quit that plan and stick with the bluhost.
I recommend bluhost because they provide good customer service with a affordable price.
Conclusion
Not all hosts are equal and every website owner has a different story on their hosting part.
So, this is my story and experience on bluehost. I recommend them because they provide good customer service, quality and with lower price.
Now It's Your Turn
And now I'd like to hear from you,
What do you think about the post? Did you find my information useful?
Or maybe you have a query about something you read from this post.
let me know by leaving a comment below right now.